FlowWorks Arctic Freeze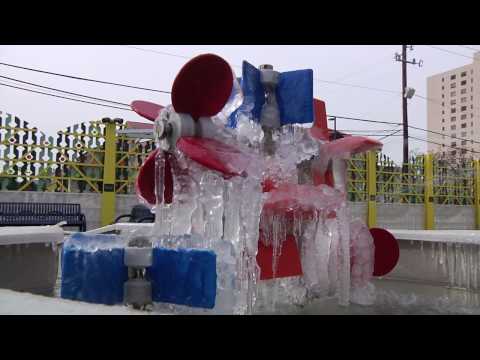 FlowWorks Arctic Freeze
---

Check out this beautiful video of ice crystals forming all over FlowWorks, our outdoor water exhibit, during the recent arctic blast. And then notice the flowing water you see right next to it. How can there be non-frozen water when the temperature is below freezing? It isn't because it was melting – the temperature was still in the upper twenties when this video was shot.

While the freezing point of water is 32°F (0°C), there is more than just temperature behind freezing water. Temperature is a measure of how much heat energy a substance has. When water reaches its freezing point, the energy is low enough to allow ice crystals to begin to form. BUT, flowing water has extra energy to it – the kinetic energy of the water in motion. In other words, the fact that the water is flowing means it has too much energy to form ice crystals until the temperature gets significantly colder. That's why rivers and waterfalls don't typically freeze solid – just the surface freezes.

The ice crystals you see on FlowWorks are formed from the splashing of the water – when the water lands somewhere, it froze, and so did the water that landed on it, and so on until you get these beautiful ice formations. This same concept works for rivers: the water starts freezing near the shore, where it is slowest-moving, and then builds outwards to form a sheet of ice over the surface of the river.

In addition to flow, dissolved substances in water can change its freezing point. That's why pouring salt or other de-icing compounds (like calcium chloride or potassium chloride) cause ice to melt. Of course, many of these compounds can damage concrete, metal, and plants, so be careful when using them. And, most substances have different freezing points, which is why we use anti-freeze in our cars due to its low freezing point. Please also remember that anti-freeze is very toxic, but has a sweet taste, so be careful when storing around children and using around animals. Many pets are poisoned accidentally each year by drinking puddles of spilt anti-freeze.